Post by bartek on Aug 16, 2017 10:41:47 GMT -6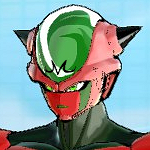 As for the rest... Yamcha hasn't wanted to kill Goku since the end of the Pilaf arc, only defeat him, especially since I doubt Bulma would be ok with her boyfriend randomly killing people. Vegeta serves as a much better rival because, as the manga points out, there comes a point where the Saiyans and their transformations just reach absurd levels. It's WHY Yamcha, Tien, and Piccolo all fell off the map after Vegeta... because you finally had a character who could match Goku Zenkai boost for Zenkai boost, transformation for transformation.
1.What wiki? You mean the dreadful Dragon Ball wiki? In which people remove stated facts? And leave non reasonable facts?
2.Actually Tenshinhan uses it in the Super Famicom's Kakusei hen's alt scenario, in which you chose that Ma junior is actually Piccolo, a similar scenario happened with Vegeta's death, in which Gohan and Kurilin gets killed by Ghurd. (speaking of saiyan saga, if Goku DOES come back to the saiyans early, then Nappa/Vegeta try to kill Gohan & Chaoz only to have Piccolo jr & Tenshinhan get killed)
3.Fixed the name of that DS garbage, why the hfil Bandai of USA called it "Attack of the saiyans" instead of "invasion of the saiyans"?
translate.google.pl/#auto/en/%E6%9D%A5%E8%A5%B2
well well it seems Raishu does mean attack too, but i prefer "invasion" since i made a RPG Maker game
rpgmaker.wikia.com/wiki/DBZ_Attack_of_the_saiyans
waaaay before this game was made
4.Yes he wanted it, to quote his line in episode 5 "Oh, so you bastards* want to go on a trip to heaven"?
5.Bu...but Vegeta being spared is like hitler being spared

And we all know that hitler will NEVER change
* kisama = bastard/jerk aka a very rude "you"